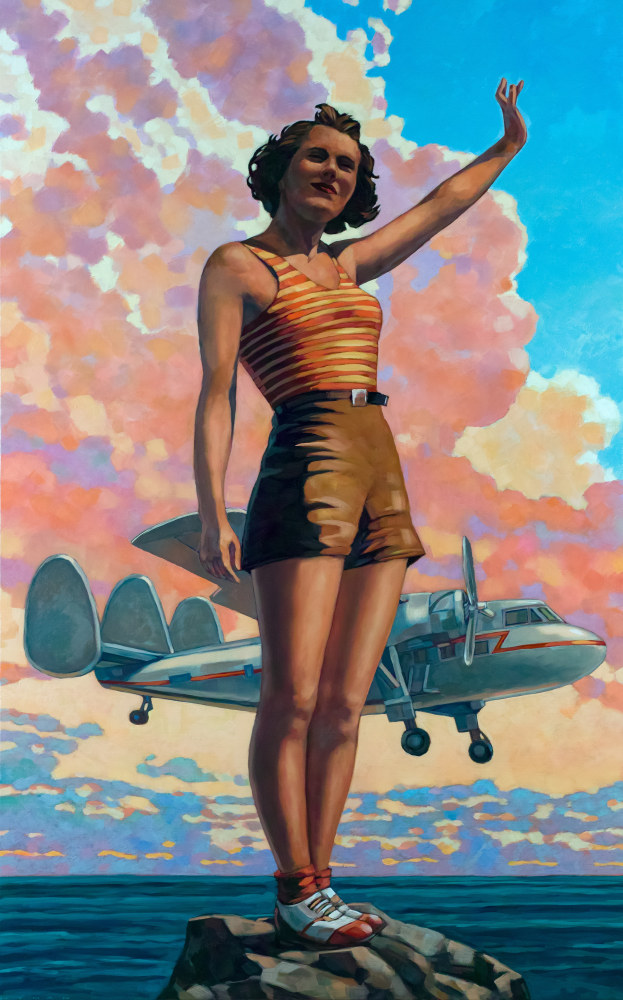 Art on Paper New York - Booth #C17
Philippe Labaune Gallery is pleased to announce our debut participation in Art on Paper New York, a medium-driven art fair serving to showcase an array of masterful works of modern and contemporary paper-based art. We will present a selection of new works by Miles Hyman and Miroslav Sekulic, and pieces by Lorenzo Mattotti will also be on display.
Miles Hyman's newest collection is a series of oil paintings created exclusively in collaboration with the Philippe Labaune Gallery. Hyman continues his Crash series with three new installments, "Ridge Crest," "Red Rock Cove," and "Venice Beach Blowout," exemplary works that highlight the artist's masterful distribution of light and density to strengthen the landscape and create an immersive, almost atmospheric effect.
Inspired by his travels in Rome for the Louis Vuitton Travel Book in 2018, "Piazza della Repubblica" and "Campo di Fiori" see Hyman drawing from past experiences to make something new and pristine. The architecture is illustrated playfully with varying shades of ochre, golden yellow, azure and subtle turquoise, with a wide range of reds, each richer than the next. When asked why his paintings place such strong emphasis on the human elements of the city, Hyman explains that "for me, the key to the city is the striking contrast between its ephemeral life and the eternal."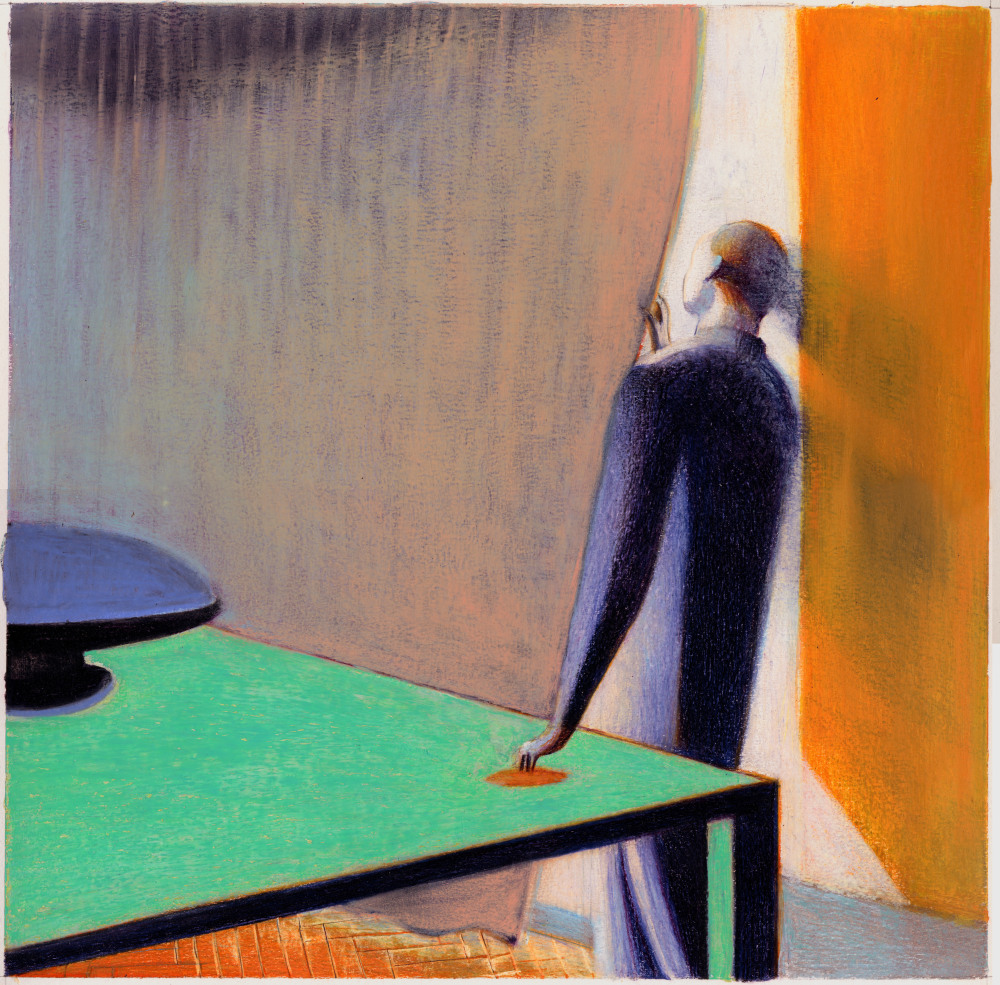 Lorenzo Mattotti's award-winning illustrations have graced children's books, the Louis Vuitton Travel Book: Vietnam, and over thirty covers for The New Yorker. Mattotti adopts a fearless approach to color, playing with crayon and pastel to create vibrant drawings that appeal to a sense of escapism. By mixing and layering a medley of colors on top of one another, the artist succeeds at creating a powerful ambiance.
Mattotti frequently evokes figures and landscapes, often saturated in vibrant color. Some dance and sway in tender courtships, others sit pensively and draw your curiosity with their demeanor. The emphasis on his linework builds tension, manifesting an energy that draws on contrasting themes of intimacy and isolation.
Lorenzo Mattotti's safe place is the dreamscape. The artist's skill knows no bounds regardless of medium, excelling at both larger illustrations and smaller, intimate pages. His exploratory work invokes the human spirit, alternating between quiet currents of energy and emphatic expressions of vigor and vitality.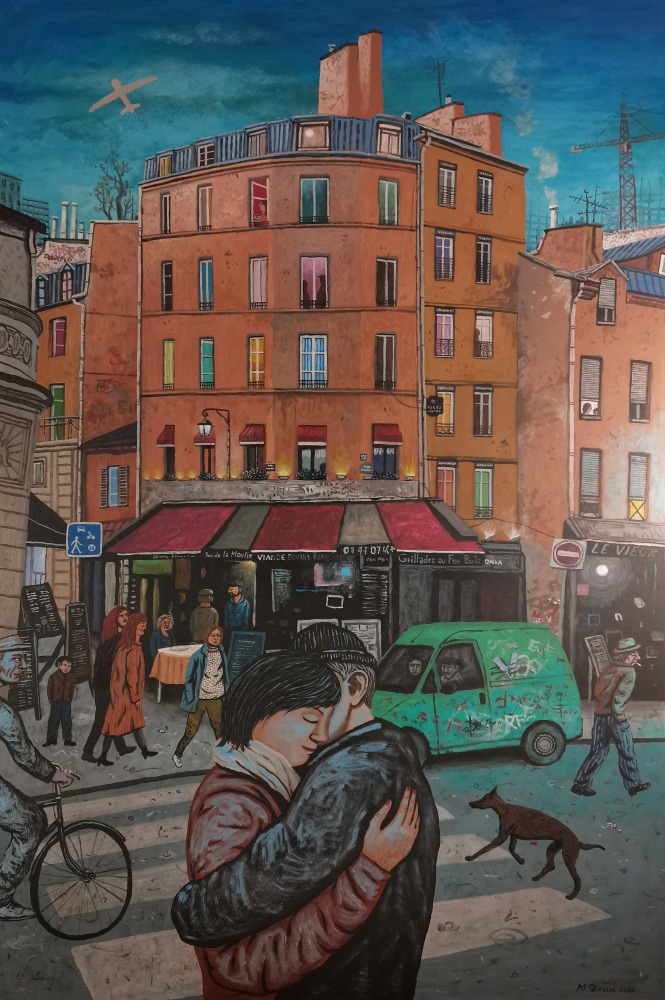 Croatian artist Miroslav Sekulic-Struja is a self-taught painter, illustrator, and graphic novelist. Driving Sekulic is a desire to chronicle the lives of underrepresented communities, such as impoverished youth or crestfallen veterans. Declared a Young Hopeful at the Angouleme International Comics Festival in 2010, the artist has outdone himself with the publishing of his third graphic novel, Petar & Liza.
Petar, a dejected poet and veteran of the Yugoslav Wars, and Liza, a classically trained dancer with an infectious smile and arresting gaze, seek a comforting embrace in a city tarnished by war and indigence. Miroslav Sekulic describes his characters as belonging "more to the world of comics, to the spaces between waking and dreaming, like some good spirits that gradually disappear like a whole world around them." Though fictional, his characters are inspired by a variety of the artist's real-life circumstances. Petar, for example, holds many similarities to Sekulic from his younger days serving in the Croatian Army, nurturing his talents by writing poems and love letters on behalf of his comrades.
Ville is a series of larger illustrations painted with acrylic made exclusively for presentation on our gallery walls. He alternates between dark and light, unafraid to drop pops of color in the dark, shadowy cityscape of Petar & Liza. Sekulic is applauded for giving substance to the smallest details of interiors, landscapes, streets, and humanity. It's a careful balance of rugged realism within a dreamlike parenthesis, producing a strong, realistic universe brimming with details as if captured on the spot.
Dismantling the boundaries between genres, Sekulic's meticulous expressionism is masterfully executed to highlight his proficiency as an author and illustrator crafting scenarios, poems, tales, and novels.
About Philippe Labaune Gallery
Founded in 2021, Philippe Labaune Gallery is devoted to championing and presenting original 20th and 21st century comic art and illustrations by emerging and established artist from around the world. For sales inquiries, please contact Philippe Labaune at: phil@philippelabaune.com. For press inquiries, please send an email to info@philippelabaune.com