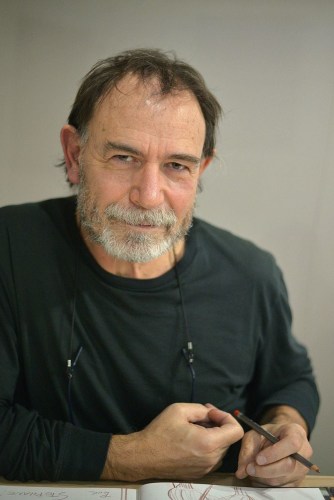 "I came to realize that in order to achieve the idea of ​​movement in a still image, you had to succeed in removing all that is superfluous and keep only the extreme tension of line and form. Through the composition, the interweaving of shapes and colors, we then manage to create a particularly strong tension in the drawing. "
This is what Lorenzo Mattotti, an Italian artist who lives and works in Paris, says when asked about the energy that emanates from his drawings. It is his sense of the line as of the color that allowed the artist to construct his multifaceted work - comic strip, animated cinema, painting, drawing - by shaping according to his own experiences, his unique language. Lorenzo Mattotti's drawing is a perpetual vibration: the wave of his "fragile line" reduced to its essentiality, the tormented eddies of its powerful chiaroscuro or the sinuosity of its chromatic palette. Nothing can surround the art of Mattotti, his drawing is transversal, expanding.
From 1984, his book Feux/Fire was welcomed as an event in the world of comics and won numerous international awards. Over the years, Mattotti's work has evolved with a strong and constant coherence, but always with the eclecticism of the one who has the courage. to innovate. For children, he illustrated and published Pinocchio by Collodi, The Pavilion on the Dunes by Stevenson, and EugenioToday. The artist's books are published all over the world and his drawings are used as covers of The New Yorker or published in magazines or journals such as Le Monde, Repubblica, Das Magazin. He also worked in the field of fashion reinterpreting for the magazine Vanity models of the greatest couturier.
More than 40 personal exhibitions have been dedicated to him internationally, including retrospectives at the Palazzo delle Esposizioni de Rome, the Frans Hals Museum in Haarlem, the Porta Romana Museum, the FHEL in Landerneau and the Villa Manin in Italy.