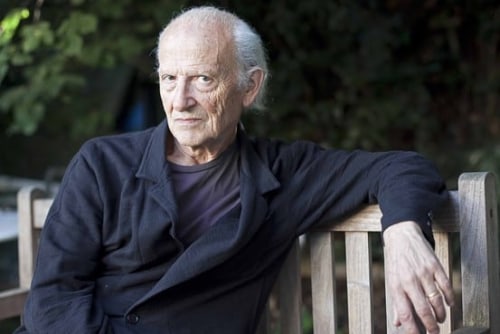 Jean Giraud
French, 1938-2012
Jean Giraud, aka Moebius, was a prolific comic artist and writer whose style has influenced his and future generations. Growing up in France in the late thirties, he developed a passion for drawing while reading comics and watching American Western films. He attended The Duperré School of Applied Arts in Paris where he studied alongside Jean-Claude Mézières and Pat Mallet. In the early sixties he became the assistant to Joseph Gillain, the classic Belgian comic artist known as Jijé. Jijé taught him elements such as layout, the power of black, and rhythm.

In 1963, Giraud began working on Blueberry, with scriptwriter Jean-Michel Charlier. The series was influenced by the American Indian Wars and gritty Western films. His style developed throughout the publication, initially carrying over his influences of Jijé while slowly evolving to a more textured way of drawing. A unique aspect Giraud incorporated within the Blueberry series is the fact that he allowed his characters to age over the course of the publication. Giraud completed his last book for Blueberry in 1999.

During the early sixties, Giraud began utilizing his well-known penname: Moebius. Under this name, he joined forces with comic artist Philippe Druillet, writer Jean-Pierre Dionnet and financial director Bernard Farkas to launch the radical comic anthology Métal Hurlant in 1974. Métal Hurlant primarily focused on science fiction comics and offered Moebius an outlet to further explore and develop his style of comic-making. Throughout this time, he went from brush and pen to embracing the 'Clear Line' style. He focused on character development and created highly detailed imaginative worlds for his subjects.

Outside of comics, Moebius' work can be found in the world of film. He worked on the storyboards and concept design for Ridley Scott's film Alien (1977), Walt Disney's Tron (1982), James Cameron's The Abyss (1989), and Luc Besson's The Fifth Element (1997).

Moebius has been recognized internationally with many awards including: Grand Prix Saint-Michel (1971, 1976), Shazam Award (1974), Sproing Award (2000), 'Best Foreign Comics Series', Micheluzzi Award, Haxtur Award (2001), Giraud also received a Haxtur Award for 'Beloved Artist' (2003). At the Festival of Angoulême he was honoured as 'Best French Artist' (1977) and won the Grand Prix (1981) and Grand Prix d'Arts Graphiques (1985). He won the Harvey Award for Best American Edition of a Foreign Work three times, in 1988, 1989 and 1991. Giraud also received the Eisner Award for 'Best Limited Series' (1989, for 'Silver Surfer'), 'Best Story or Single Issue' (1991, for 'Concrete Celebrates Easter') and 'Best American Edition of an International Work' (2017). Giraud was furthermore bestowed with two Yellow Kid Awards for 'Best Foreign Cartoonist' (1975) (1980), an Adamson Award for "Best International Comic Artist" (1979), the Grand Prix de la Science-Fiction Française (1980), an Inkpot Award (1986) and, both for his entire oeuvre: a Max & Moritz Award (2000) and the Prix Albert-Uderzo (2004). He was inducted in both the Jack Kirby Hall of Fame (1997) as well as the Eisner Hall of Fame (1998). In 2011 Jean Giraud was invested with a knighthood in the Ordre National du Mérite.