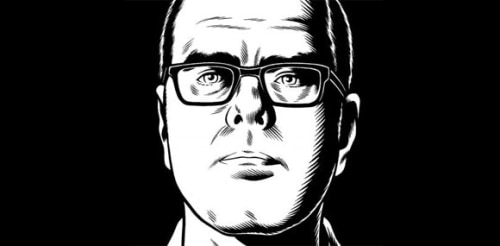 Charles Burns
American, b. 1955

Charles Burn's work is easily identifiable with its stylized linework and oftentimes disturbing imagery. Early on he was inspired by Hergé's The Adventures of Tintin, and later by artists such as Robert Crumb, Will Elder, Al Feldstein, and Reed Crandall. A surprising influence is Japanese woodblock prints.

Burns studied engraving at the University of Washington (1973-1975) and Central Washington State College in Ellensburg (1975-1976). From 1976 to 1977, Charles Burns studied photography at Evergreen State College in Olympia, Washington, where he met and worked with The Simpsons' creator Matt Groening. His big break came in 1981 when Art Spiegelman included Burns' work in Raw magazine.

His work has been published in The New Yorker, Time Magazine, Esquire, L.A. Weekly, and most notably The Believer, for whom he designed the cover for over a decade. Between 1995-2005 Charles Burns created 'The Black Hole', a twelve-issue comic book series that follows a group of teenagers who contract a mysterious, mutation-causing, sexually transmitted disease known as "the Bug." Over the course of 'Black Hole', Burns received seven Harvey Awards including "Best Inking" and "Best Graphic Album of Previously Published Work." In 2006, he received the Ignatz Award for "Outstanding Anthology or Collection." At the Angoulême Comic Festival in 2007, Burns received the jury prize for "Most Essential Album."